And you know what? Let's start this preview with a question that crossed my mind a couple of times already : Are UFC events that take place in the world-famous Staples Center cursed? No, I mean … Seriously, are they? Last time the UFC was in LA, the event was canceled (UFC 176), marking the second time in the history of the organization that a pay per view was scrapped (the infamous Hendo vs Jones card). But even if the event actually does take place, the ghost of past Staples Center disaster cards will remain.
Of course, it doesn't really matter but the card was supposed to be headlined by the much anticipated fight between middleweight king Chris Weidman and the rejuvenated knock-out phenom Vitor Belfort. But an injury to the champion delayed the anticipated tilt, with Belfort refusing to fight for anything less than the full title itself. Also on the card, a pivotal fight between two rising middleweight contenders was supposed to go down. Ronaldo "Jacare" Souza and Yoel Romero facing each other could have been a real show stealer but pneumonia to the Brazilian forced the fight to be rescheduled for UFC on Fox 15, which will now feature two middleweight contenders fights. It was also supposed to feature a heavyweight bout between Frank Mir and Bigfoot Silva, who moved up a week and headlined UFC Fight Night 61. But more on that fight later. You probably got it. The card isn't as insane as it was supposed to be. And after all the fights announced for UFC 187 on Memorial Day, it even sounds a little sad. But don't be fooled by that … This event will be as important as any other Pay Per View despite the lack of true PPV-caliber tilts. And no, it's not (or at least, not really) because of underrated fights that will make you jump off your seat.
Main Event – Women's Batamweight Championship
Ronda Rousey © vs Cat Zingano
This is the big one. As of now, Cat Zingano is one of the two or three women's that UFC fans around the world wanted to see fight the champion. The other two being Cyborg Santos and Holly Holm (more on that later, check the next fight). A little background first. For those of you who don't know, Meisha Tate's rematch against Ronda wasn't supposed to happen. She wasn't supposed to be coaching in the Ultimate Fighter against Rowdy Ronda. The women who beat her in BRUTAL fashion in the second ever women's UFC fight was and that women was Cat Zingano. After their TUF season, Zingano was supposed to face Ronda at UFC 168 on December 28th ... 2013. So, with a TUF season to film, Zingano vs Rousey was announced in early 2013. Keep this particular fact in mind, I'll come back to that later. Cat injured her knee (May 28th, 2013) forcing her to be away from MMA for nearly a year and a half (it should be noted that she also lost her husband by suicide in early 2014), Tate replaced her on the very first episode of the Ultimate Fighter 18, and, finally, she came back in the octagon on September 27th 2014.
Meanwhile, Ronda Rousey faced her toughest challenge yet in the revenge fight versus Tate, only girl to date who escaped the first round against the former Olympian, finishing her in the 3rd round via her trademark arm bar. And then disposed of Alexis Davis and Sara McMann in a grand total of 1 minute and 22 seconds. Cat then faced Amanda Nunes, TKO-ing her in the 2nd round after a tough first round and the fight was on. So, is this fight the reason this event is important for the UFC? Yes. And why is this fight important? For two reasons. The first one is that Cat Zingano is, BY FAR, the best and most complete fighter Ronda's ever faced. She was the biggest threat to Rousey in 2013 and after looking like she hasn't lost a step against Nunes (despite a rough start), she still is. Right now, she has the biggest chance amongst anyone in that division and she represents a VERY real test for Ronda who hasn't met such a complete fighter yet. Cat is still undefeated, not a first since Sara McMann was before meeting Ronda but still impressive. Cat has a track record of destruction put on some very VERY talented female fighters. Look at Meisha Tate's, clear-cut #3 women's bantamweight in the world right now behind Cat and Ronda, recent fights where she beat Liz Carmouche AND Sara McMann. It has been said above, Tate has been the toughest challenge to Ronda Rousey so far and re-watch how Cat TKO-ed her.
Okay so now, here's the second reason this fight (and this event) is so important for the UFC (and the division). This fight HAS to be competitive. As told above, 1 minute and 22 seconds. That's the duration of Ronda's last two fights. Think about it for a second. Can the UFC really afford one of its biggest star (and biggest draw) to annihilate her opponent in less than 2 minutes? They can't. And they better be praying that it's not going to happen on Saturday. Look at it this way, what's left for Ronda if she defeats Cat with ease? An unproven 33 years old prospect in Holly Holm, who's biggest weakness is Ronda's biggest strength and who hasn't stepped foot in the UFC yet? Cyborg who may or may not ever step foot in the octagon, let alone be able to fight Ronda at 135? Another point to this is the LA market. This card is a sub-par card by any standard and could really turn out to be a disaster if the main event doesn't offer a contested fight and leave the fans unhappy yet again (remember UFC 176's cancelation now). A quick Ronda finish and the UFC's appeal to the fans in LA will take yet another huge hit despite the fact that the city of Angels is a huge fighting place. And then look at it this way too … Who will REALLY want to pay to see Ronda fighting if we already know how the fight will finish (and that it will be over quickly)?
Ronda is two or three fights away from cleaning the whole division and leaving only "maybe she has a little chance" kinda fights, the same way Demetrious Johnson does. Cat Zingano needs to be Ronda Rousey's equivalent of Jon Jones' Alex Gustafsson. She needs to make Ronda look human to give the division a little interest back and to give fans a reason to watch Ronda other than her pure talent and utter domination. Or else the UFC will lose one the power of its biggest draw after losing one last year in Georges Saint Pierre. That's why this fight is important. Now as for the fight itself … Can Cat Zingano wins? Yes. Sure. She has, in my opinion, a better and more powerful striking than Ronda and will definitely be a threat standing up. Her grappling is on point despite clearly not being on Rousey's level. She's mentally tough, as her recovery showed, and will not go down easily. But will she actually beat Ronda …? I don't think so and this despite not being a fan of Rousey. I think that Ronda will use her grappling talent to her advantage and, despite being tougher for her to do so due to Cat stand-up and talent, she will eventually submit Alpha Zingano in the later rounds. That's her best game plan and remember, she knew she would eventually fight Zingano since early 2013 (told ya to keep this fact in mind). It is impossible that a determined champion like Rousey doesn't know exactly what to do to beat the women everyone saw as her biggest threat on Saturday, especially with two years of gathering information. But hey, I really hope to be wrong on this one.
Pick : Rousey via Submission (armbar) in Round 3.

Co-Main Event – Women's Bantamweight
Holly Holm vs Raquel Pennington
And finally, the almighty Holly Holm will step foot in the UFC. One of the best female boxer of our time now in the Octagon … You would think that I, as a UFC fan, am excited? I'm not. This fight shouldn't be a co-main event of a Pay per View in LA. Maybe in a Fight Night in New Mexico it would makes sense but here, I don't like it one bit. Why? Well it's really really simple. Because the UFC may (or may not after all) want to launch the Holly Holm hype train as soon as possible and they will do so by putting her against an average opponent who's 5-4 record gives you a clear idea of her talent. Raquel Pennington lost against every single upper echelon fighter she's face : Jessica Andrade, Leslie Smith and Cat Zingano. This is a perfect fight for Holly Holm to test her under the light of the UFC, I truly believe that. But it should not be a co-main event. This should be, at best, a prelim card bout. So expect Holly Holm to do the job on Saturday et expect fans and experts to call for an immediate title shot if Ronda wins decisively against Cat Zingano. Me? I'm not buying it until she has proven herself against a tougher opponent like Alexis Davis, Sara McMann or Bethe Correia. But it will be devastating for Holm's UFC career if she doesn't succeed convincingly on Saturday.
Pick : Holm via TKO in Round 1.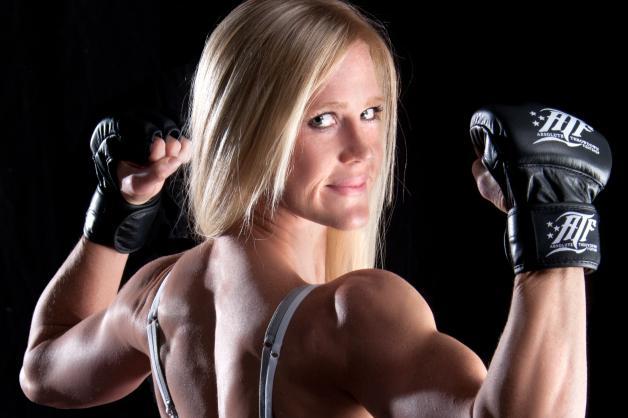 Josh Koscheck vs Jake Ellenberger
Remember when I said that I would talk about what went down between Mir and Big Foot? That's because this fight is strangely similar to last Sunday's Main Event. Plain and simple. Two former contenders with a 3-fight losing streak going that may or may not be unemployed Monday morning. Two guys with a jaw that ain't what it used to be and both stopped in the last two fights. Last Sunday, Mir won via quick KO, showing the fighting world that Antonio Silva should consider retirement with the decline he's suffering off-TRT. This time, it's Koscheck who hasn't fought since November 2013 after a brutal KO loss to Tyron Woodley. Both have been stopped by Robbie Lawler. Koscheck lost to Johnny Hendricks in a close-contested decision while Ellenberger has been submitted by Gastelum in Mexico and lost a snooze fest decision to Rory MacDonald. First off, let's agree that none of these losses are real red flags but here is the difference, Koscheck never looked like he lost it. Not even against Woodley when he was knocked the "F" out. But Ellenberger hasn't looked as sharp as of late and I think that this is the real difference. There's a lot of talk about Koscheck wear and tear with 23 (!) UFC fights and 8 years difference between him and Ellenberger. But the fact remains that Kos has looked much better in his last few fights and like Frank Mir, took time off when needed.
Then, there's another thing that erases all the wear and tear talk : Ellenberger has fought more than Koscheck. And lost more. But here's the real clincher : I think personally that Koscheck is simply the better fighter. He is a better wrestler. Ellenberger possess more punching power but Koscheck striking is more complete (look at him destroy Yoshida and Hazelett or even Matt Hughes). At the end of the day, this is a very dangerous fight for both fighters and the better fighter will win ... setting a new trends for older fighter to take 1 year + of time-off after losing a few fights in a raw only to come back stronger? Maybe. But as far as the quality of the fight goes, I would love to see both guys throw down 'til someone gets hurt but I expect a more grappling-heavy (and boring) battle. Sadly for Jake, this is not a battle he will be able to win.
Pick : Koscheck via Unanimous Decision.

Alan Jouban vs Richard Walsh
Much like Holm vs Pennington, this is not a fight that should be featured on a Pay per View main card. But I do think that this fight could surprise many and be a true slugfest. Why? Because both guys are coming off two controversial decision loss and are likely eager to avoid another bad judging experience in the octagon. We could make the argument that both of those guys haven't really lost in the UFC yet and it would be justified. This real advantage is that in case of an impressive showing, the winner will get some hype, despite being in a talent-rich division. But as for the fight itself, despite being two fighters with a similar style, I truly think that Jouban is one step above Walsh. Stopping Baczynski the way he did is no joke and I see him pushing the pace till there's a stoppage. And shout-out to his trainer, Eddie Bravo, who I looked up too for years with his training of BJJ.
Pick : Jouban via TKO in Round 1.

Tony Ferguson vs Gleison Tibau
And … this is a better fight than the Co-Main Event. And it will open the main card. Meh. So for those who don't know these two fighters very well (there's no shame in it!), here's a little breakdown. Tony Ferguson is one of the best prospects to come out of The Ultimate Fighter as of late and is still growing as a fighter. He is now 7-1 in the UFC and is coming off an impressive submission victory against Abel Trujillo (you know, Khabib's b*tch, google and watch Khabib vs Abel Trujillo, you'll get it). His only loss was against Michaels Johnson which is not a shame at all considering Johnson's recent form. This fight is a good fight for him and in case of a win, would put Ferguson in a position where he may ask for a top 10/15 guy for his next fight (and deserve it). On the other hand, Tibau is the true definition of a veteran and a HUGE lightweight. He will also be, quietly, the second most experienced fighter in UFC's history with his 25th UFC fight on Sunday, most by a lightweight and second only to Tito Ortiz (and tied with Matt Hughes). Tibau comes off an impressive victory against Norman Parke and is becoming kind of a gatekeeper at 155. That being said, I like Ferguson's offensive style in this one and I see him using his reach (which will disturb Tibau) and push the pace to score the win.
Pick : Ferguson via Unanimous Decision.

Prelims
Roan Carneiro vs. Mark Munoz
Roman Salazar vs. Norifumi Yamamoto
Dhiego Lima vs. Tim Means
Derrick Lewis vs. Ruan Potts
James Krause vs. Valmir Lazaro
Masio Fullen vs. Alexander Torres