When I got home from visiting my grandparents, I turned on to FOX to see the Texas A&M/UCLA game. I knew going in A&M was starting a true Freshman at QB in Nick Starkel, what I didn't know was that A&M's offensive line was gonna dominate the 1st half. They moved people opening gaps & lanes for Trayveon Williams (15 carries, 188 yards & 2 TD's in the 1st half) & Keith Ford (14 carries, 74 yards & 3 TD's in the 1st half) to run through, leaving UCLA's coach Jim Mora looking for answers. Texas A&M's defense did work as well, forcing 3 turnovers via fumbles & hitting Josh Rosen damn near everytime he dropped back to pass. I felt for Rosen cause he's one of the best QB's in the country & if you give him time, he will pick you apart. At halftime A&M led 38-10 on the road & FOX football analyst Dave Wannstedt suggested UCLA should run the ball more because UCLA's O-Line didn't show that they can protect Rosen.
When UCLA trailed 44-10 with 4:08 left in the 3rd quarter, I was thinking about changing the channel to the West Virginia/Virginia Tech game on ABC which was a neck & neck game throughout and was decided on the final play (Virginia Tech won 31-24). I was really thinking about it but something told me, don't give up on Josh Rosen....you might miss something special. So I stayed on FOX, Rosen drove them down the field & Soso Jamabo scored from 6 yards out. Going into the 4th quarter, A&M leading 44-17 & the game still looks to be in their favor....but then UCLA's defense got a stop to give Rosen the ball back. Josh drives them down the field & threw a 9-yard TD pass to Darren Andrews on a quick screen, now the deficit has been cut to 44-24. UCLA's defense gets another stop but Josh Rosen had to start this drive from his own 4-yard line, in 5 plays Josh drove the offense down the field again & capped it off with a 42-yard TD pass to Darren Andrews that should've been intercepted. Now the score is 44-31 with 8:12 left in the game, I'm like "oh snap....they could pull this off."
UCLA's defense continued their solid 2nd half play getting another stop & giving Josh Rosen another possession. Josh drove them down the field & threw a 16-yard TD pass to Theo Howard being pressured, rolling to his left, sidearm & off his backfoot. Now I can't believe what I'm watching, a 44-10 game is now a 44-38 game with 3:10 left. UCLA's defense forced a 3 & out & now Josh Rosen has the ball with 2:39 left and no timeouts. Before the drive started, I tweeted this...Before Ucla Comeback. Josh drove the offense down the field again & then he faced a 4th & 6 with 54 seconds left. A&M's defensive coordinator John Chavous decided to call an all out blitz up the middle but they let RB Soso Jamabo leak out of the backfield, Rosen found him on a swing pass & Soso picked up 10 yards for a drive-continuing 1st down. The next play Josh hurried everyone to the line, got them set, faked the spike & found Jordan Lasley in the left corner of the endzone for the game-winning 10-yard TD with 43 seconds left to give UCLA a 45-44 lead Once Comeback Was Completed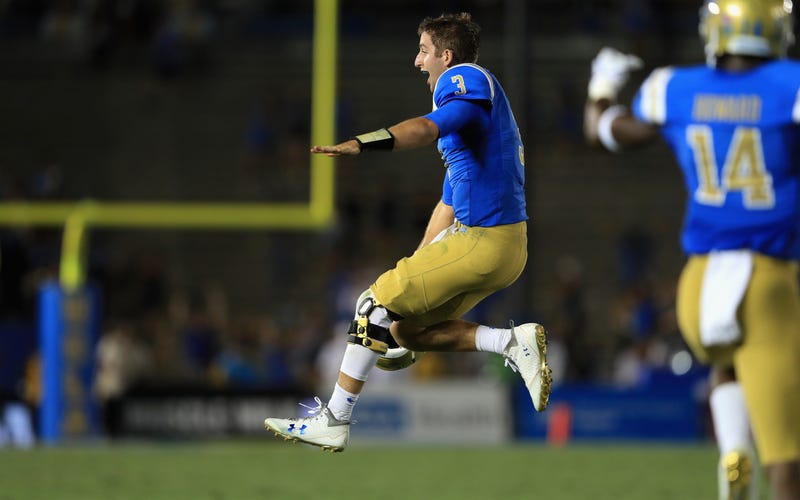 Comeback completed!!!! UCLA led by Josh Rosen came back from 34 down to beat Texas A&M 45-44, it marks as the 2nd largest comeback in college football history (Michigan State came back from 35 down to beat Northwestern in 2006). Josh Rosen finished the game 35 of 59, career-high 491 yards & 4 TD's (24 of 31, 366 yards & 4 TD's after UCLA trailed 44-10 with 4:08 left in the 3rd quarter). This comeback pretty much cemented Josh Rosen as a potential top 5 pick if he decides to declare for the 2018 NFL Draft. He had help too...TE Caleb Wilson had 15 catches for 208 yards, I'm not sure if he dropped a pass. He literally caught everything thrown to him (He had 16 catches for 220 yards his whole Freshman year all of last season). Darren Andrews had 12 catches, 142 yards & 2 TD's (Career-highs in catches & yards). Jordan Lasley had 4 catches for 100 yards including the 10-yard game-winning touchdown with 43 seconds left.
Joel Klatt who was in the broadcast booth doing the play-by-play with Gus Johnson during Sunday night's game in Pasadena, had this to say about Josh Rosen's incredible performance & comeback.
"He goes out there and gets bludgeoned for 2 1/2 quarters. He was getting drilled time after time after time but guess what he never did? He never yelled at a teammate, he never threw his helmet down in digust, he never shouted at a coach. The guy maturely kept coming back on to the field, sometimes limping back on the field and executing his offense. That was the most epic thing I witnessed first hand, a 34-point comeback? That was extraordinary. I never seen anything quite like that because it wasn't 3 big INT's, it wasn't a scoop and score. It was just a systematic comeback of 5 possessions. It was crazy"
Remember when Trayveon Williams & Keith Ford ran up & down UCLA's defense? Trayveon ended the game with 22 carries, 203 yards & 2 TD's but only had 7 carries for 15 yards after halftime. Keith Ford ended up with 18 carries, 114 yards & 3 TD's but only had 4 carries for 30 yards in the 2nd half. I don't understand...these 2 RB's & the O-Line was the reason why A&M had a 38-10 halftime lead, why do you stop feeding them? A lot of Texas A&M fans & supporters were stunned, perplexed & down right angry including a school regent Tony Buzbee who wrote this on Facebook after the loss.
"I'm sure I may be criticized for this post but I honestly don't care. I've been on the Board of Regents for the A&M system for almost 7 years. During that time, I've not once commented on Kevin Sumlin and his performance during his tenure at our school. I never said a word when he and his agent manipulated a much bigger and longer contract. I said nothing about his arrogance and his mishandling of multiple player controversies. I said nothing when he had multiple awesome recruiting classes, only to see key players leave our school or underperform. But tonight I am very disappointed and I have to say this. Kevin Sumlin was out-coached tonight, which isn't new. He recruits well but can't coach the big games, or the close games. Our players were better tonight. Our players were more talented tonight. But our coaches were dominated on national TV, yet again. I'm only one vote on the Board of Regents, but when the time comes, my vote will be that Kevin Sumlin needs to GO. In my view, he should go now. We owe it to our school and our players. We can do better. Share this as you see fit."