Through the 1st 5 games of the 2017 season, we've seen a lot of things in college football. Great games, upsets, big game performances, new traditions, amazing comebacks & more. Now it's time to break down my top 5 Heisman candidates through the 1st 5 games of the season so far.
1. Oklahoma QB Baker Mayfield - After beating Oklahoma State last season to win his 2nd Big 12 title, Baker announced that he was coming back for his senior season & his reason why is to win a national championship. Looking at his resume since he transferred from Texas Tech in 2013....he's set school records, he's won a couple Big 12 titles & even went to the college football playoff in 2015. That & winning the Heisman is the only things he hasn't done yet. Through 4 games this season he's been great completing 75% of his passes, averaging 332 yards passing per game (1,329 passing yards total), 13 TD's & no INT's.
His Heisman moment came in week 2 against Ohio State. Last year against the Buckeyes in a 45-24 home loss, Baker threw 2 INT's incluiding 1 returned for a TD. The thing that irritated Mayfield the most was after that game, he seen Ohio State's players stay on the field & sing their alma mater. He called it "embarrassing" & used their road tradition as motivation and it worked. In a 31-16 revenge win over Ohio State, he went 27 of 35 for 386 yards & 3 TD's (16 of 19 for 225 yards & 3 TD's). To rub salt in the wound, Baker Mayfield planted the team's flag at midfield. He apologized for his actions a couple days later.
Baker & the 3rd ranked Sooners will come back home vs. Iowa State on Saturday after having the previous week off. Their notable stretch of games start next week when they play vs. Texas in their annual Red River rivalry. On October 28th, they play Texas Tech at home & he's 2-0 against his former team. In the month of November they start on the 4th with Bedlam @ #15 Oklahoma State, the following week on the 11th vs. #8 TCU the most surprising team in college football, on the 25th on senior day vs. #23 West Virginia & a potential Big 12 Championship game. If they can get by November with at least 1 loss & Baker playing solid football throughout that stretch of games, not only will Oklahoma make the college football playoff but Baker Mayfield can win the Heisman.
2. Penn State RB Saquon Barkley - The hype train for Saquon started after last year's 52-49 Rose Bowl loss vs. USC (25 carries, 194 yards & 2 TD's; 5 carries, 55 yards & 1 TD). He's everything you want in a running back. Strong, physical, tough, never gets tired, shifty & humble. I saw all of that vs. Iowa & more. Trace McSorley threw the game-winning 7-yard TD pass to Juwan Johnson as time expired to give them a gutsy 21-19 win at Iowa but Saquon Barkley was the focal point from start to finish for Penn State. Saquon had 28 carries, career-high 211 yards & a TD; 12 catches for 94 yards & 3 kick returns for 53 yards (358 all-purpose yards. A new school record). Out of 99 offensive plays, Saquon Barkley had the ball 43 times & after the game Maria Taylor asked Saquon how did he feel after carrying that heavy workload & he said felt great. That speaks to how hard he works in the weight room & how great a shape he keeps himself in to prepare for games like that.
As if defending Saquon in the run or passing game was stressful enough, now he running kickoffs back for touchdowns on special teams like he did last week vs. Indiana https://twitter.com/MusikFan4Life/status/914268236308520960
Penn State's next 3 games after this week's game @ Northwestern will pretty much decide on 2 things. Whether they'll make it to their 2nd straight Big 10 Chamipionship game & Saquon Barkley's chances on winning the Heisman. They'll have a bye next week then on Oct. 21st they play vs. #7 Michigan, a payback game for them after Michigan dominated the Nittany Lions out 49-10 last season in Ann Arbor. On Oct. 28th they travel to Columbus to play @ #10 Ohio State, they upset Ohio State last season & have only lost 1 game since (Last year's Rose Bowl vs. USC). To end that tough 3-game stretch, they play @ Michigan State on November 4th. We'll see what happens from this point forward, but what's become clear is that Saquon Barkley is the best RB in college football.
3. Washington State QB Luke Falk - Luke running Mike Leach's Air Raid system has thrown for 4,514 yards & 38 TD's on average during his Sophomore & Junior seasons. He's on pace to probably do better than that so far during his senior season throwing for 1,718 yards, 16 TD's & 2 INT's through 5 games. His low point so far this season came in week 2 against Boise State, not only did he throw for a career-low 193 yards & a INT but he got knocked out of the game with an concussion. Backup QB Tyler Hilinski came off the bench & turned a 31-10 4th quarter deficit into a 47-44 triple OT win against Boise State. He rebounded in the next 2 games completing 37 of 49 for 396 yards & 6 TD's in a 52-23 win vs. Oregon State and completing 36 of 47 for 478 yards & 5 TD's in a 45-7 win vs. Nevada.
His Heisman moment came last Friday against #5 USC. Despite being sacked 5 times & hit a few more, he still completed 34 of 51 for 340 yards, 2 TD's & 1 INT in an 30-27 upset win of USC. Outplayed preseason Heisman candidate Sam Darnold who had 2 rushing TD's but only completed 15 of 29 for a career-low 164 yards & a INT. By far the best win of Luke Falk's career & Washington State's 1st win against a top-5 USC team in program history
Luke Falk & the 11th ranked Cougars will play @ Oregon this Saturday 8:00 PM on FOX. Even though 2 of Oregon's best players are injured QB Justin Herbert is out with a broken collarbone & RB Royce Freeman is questionable with a shoulder injury, they can't sleep on Oregon who is the #1 scoring offense in the country. This game will start a stretch where they play 5 of their 7 games on the road after starting out their 1st 5 games at home. As of now, they won't play another ranked opponent until November 11th @ #20 Utah, get a bye week on the 18th & then face #6 Washington on the road on the 25th to end the regular season. That game at Washington may decide who'll win the Pac-12 North & play in the Pac-12 Championship game. The more Washington State keeps winning, the more it only increases Luke Falk's chances of making a trip to NYC for the Heisman.
4. San Diego State RB Rashaad Penny - Last season Rashaad as a junior was the backup RB to Donnel Pumphrey who led the nation in rushing (2,133 yards) & broke Ron Dayne's all-time NCAA record for career rushing yards (6,405). Despite Pumphrey getting most of the carries, he still ran for 1,005 yards & 11 TD's. This season as a senior, he's the main guy at RB & through 5 games has 116 carries for 823 yards & 7 TD's. He could surpass last season's numbers after this week's game vs. UNLV & he's averaging 164.6 yards rushing per game, only Stanford's Bryce Love is averaging more with 217.6 yards through the 1st month of the season. I only have Penny above Love for now cause Penny's team beat Love's team head-to-head 20-17 when Stanford was ranked as the 19th ranked team in the country, there's plenty of time for both RB's to make noise as the season goes along.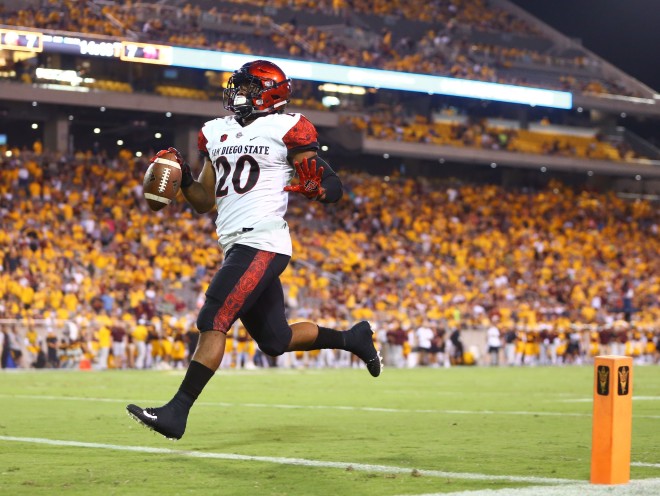 Rashaad was even a nice enough guy to accept Northern Illinois' LB Antonio Jones-Davis' apology after he gouged his right eye out during the 1st quarter last week's game. Despite the apology, Northen Illinois suspended Antonio for this week's game vs. Kent State
5. UCLA QB Josh Rosen - I choose Josh to round out my top 5 cause I think he's the most vaulable QB in the country. Last season he was limited to 4 games due to several injuries, this season they're 3-2 but they could be 2-3 or 1-4 if they didn't have that guy at QB. He's made guys at WR better like Jordan Lasley, Darren Andrews & TE Caleb Wilson. Through the 1st month he's completed 65% of his passes, 2,135 yards, 17 TD's & 5 INT's (Thrown for 300+ yards in all 5 games including 3 games with over 400+ yards). I believed in the Sam Darnold hype train before the season but he's throwing too many INT's (Sam's thrown 8 this season. Threw 9 all of last season), I'm looking at Josh do more with better recievers than Sam but Josh is depending on a mediocre defense to get stops & he's making less mistakes as much as he's thrown it so far.