As long as I've been watching football, this defense has been my favorite to watch in NFL history. The Seattle Seahawks Legion of Boom which started in 2011 when they drafted Richard Sherman out of Stanford in the 5th round with the 154th overall pick. A case could be made that he's the best 5th round pick ever, look at his resume. In 2013, he led the NFL in interceptions with 8 & was a part of a dominating Super Bowl 48 performance over the Peyton Manning-led Denver Broncos 43-8.
Before the 2014 season started, the Seahawks & Sherman agreed on a 4-year/$57.4M contract extension. On June 6th, he was named the cover athlete for the video game Madden NFL 15 & later on he was nominated for an ESPY Award for "Best Breakthrough Athlete." He finished the 2014 season with 57 tackles, 4 INT's & 8 passes broken up. Interceptions were down but he had another outstanding postseason having 2 INT's in 3 games but his Seahawks fell short of a chance to win back-to-back Super Bowls after losing to Tom Brady's Patriots 28-24 in Super Bowl 49. A day after Super Bowl 49, the Seahawks announced that Richard Sherman would need Tommy John surgery to fix a torn ligament on left elbow. That's a common injury to baseball pitchers not football players.
In 2015...Richard had 50 tackles, 14 passes broken up & 2 INT's. Richard Sherman was named to his 3rd straight Pro Bowl & was ranked 20th by his peers on the NFL Top 100 players of 2016 list.
After the 2016 season, it was revealed that Richard Sherman played through the 2nd half of the season with a sprained MCL in his right knee. The Seahawks could've been hit with a heavy fine & forfeiting a 2nd round pick if the injury wasn't disclosed in time but at the end of the day, Seattle didn't get fined.
This season Richard Sherman injured his Achilles in a 16-10 win vs. the Los Angeles Rams back in week 5. Moving forward he could still play on it but he'd have to avoid making hard cuts knowing he's a defensive back. 5 weeks later he ruptured his Achilles effectively ending his season while trying to make a tackle during a Thursday night game vs. the Arizona Cardinals. He'll be back next year but I don't if he can be that elite corner that he once was knowing that he'll be turning 30 on March 30th & not too many athletes can play at a high level after tearing their Achilles. The other night against the Falcons was the 1st time that he missed a game in his 7-year NFL career, the Seahawks ended up losing 34-31 at home falling to 6-4 on the season. (2nd most points that the Seahawks defense has allowed at home this season)
Kam Chancellor puts the boom in the Legion of Boom. Like Sherman he was a diamond in the rough too drafted in the 5th round with the 133rd pick in the 2010 NFL Draft. He didn't start at strong safety until his 2nd season replacing Lawyer Milloy. Kam finished the 2011 season 2nd on the team in tackles (97) & interceptions (4). For his reward, Chancellor was added to the 2012 Pro Bowl roster replacing 49ers strong safety Dashon Goldson. In the 2012 season, Kam Chancellor started all 16 games & had a career-high 101 tackles.
In April 2013, the Seahawks agreed to sign Kam Chancellor to a 4-year/$28M extension & he was worth it. In the 2013 season, he had 99 tackles, 1 forced fumble, 3 INT's & played all 16 games. Kam played his best game of the season in the biggest game of the season in Super Bowl 48 against the Broncos recording 9 tackles & an INT being a part of one of the more dominant Super Bowl games in recent memory.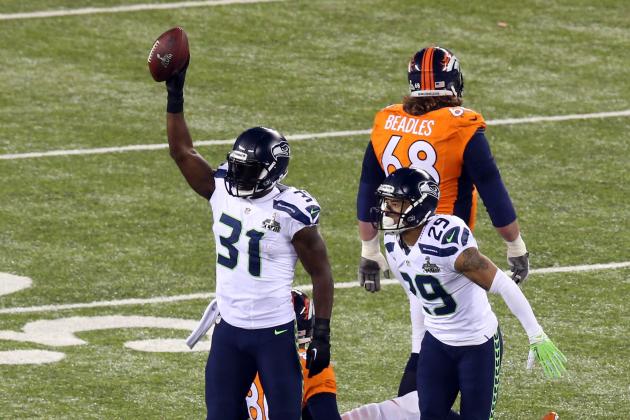 At the start of the 2014 season, he was named a team captain along with QB Russell Wilson, Punter Jon Ryan & Kicker Steven Hauschka. He finished with 74 tackles, a forced fumble & an INT earning him his 3rd Pro Bowl apperance & was voted 2nd team All-Pro defense by the Associated Press. In Seattle's Divisional game vs. the Carolina Panthers, he had one of his best games as a pro having 9 tackles, a 90-yard pick 6 & blocked 2 FG's (Both were negated via leaping penalties). In the NFC Championship game, Kam had 4 tackles in the 28-22 OT win moving on to their 2nd straight Super Bowl. In the 28-24 Super Bowl 49 loss vs. the Patriots, he had 10 tackles & covered TE Rob Gronkowski for a good portion of the game which is no easy task by the way.
1 year into his 4-year extension, Kam Chancellor wanted another new contract extension. He didn't get it so he held out the 1st 2 games of the 2015 season losing to the Rams 34-31 in OT & losing to the Green Bay Packers 27-17 on Sunday Night Football. His presence was greatly missed in both games so he decided to end his holdout in the 3rd game of the season & the Seahawks went on to go 10-4 since he came back to the team. Kam finished the 2015 season with 74 tackles, 1 forced fumble, 2 INT's & earned a trip to the 2016 Pro Bowl despite only playing in 11 games. In the Wild Card round @ the Vikings where the temperature was like 10 or 9 degrees throughout the game, Kam Chancellor made the play of the game forcing a fumble from Adrian Peterson in the 4th quarter. The Seahawks recovered, kicked a field goal & end up winning the game 10-9 because Vikings kicker Blair Walsh missed a potential game-winning 27-yard FG that still haunts him to this day.
Kam Chancellor finished the 2016 season with 85 tackles, a forced fumble & 2 INT's playing in 12 out of 16 games. On August the Seahawks agreed to sign Kam Chancellor to a 3-year/$36M deal ($25M guaranteed). Leading up to a Monday night game vs. the Falcons, it was announced that Kam will miss the rest of the season with a neck injury. I'm sure he'll be back next year along with Sherman but he'll be turning 30 on April 3rd. As hard as that dude be hitting people on a regular basis, it'll surprise me if he can play another 4-5 years.
Last but not least free safety Earl Thomas who's the shortest member of the LOB at 5'10" but that doesn't matter at all. Unlike like Sherman & Chancellor, Thomas was drafted in the 1st round with the 14th overall pick in the 2010 NFL Draft. Only Eric Berry & Joe Haden was drafted before him as far as defensive backs go. In his rookie season...he finished with 76 tackles, a forced fumble & 5 INT's helping Seattle get into the playoffs.
In the 2011 season, the Seahawks finished with the 2nd-fewest 20-yard passes given up thanks to Earl Thomas playing that single high safety position defending the deep portion of the field. He finished with 98 tackles, 1 forced fumble, 2 fumble recoveries & 2 INT's earning him his 1st Pro Bowl & a 2nd team All-Pro selection.
In the 2012 season, Earl had 66 tackles, 1 forced fumble, 1 fumble recovery, 3 INT's & was selected to the 2013 All-Pro team.
2013 was his best season of his career when he finished the season with a career-high 105 tackles, 2 forced fumbles & 5 INT's helping the Seahawks win Super Bowl 48 over the Denver Broncos. Earl Thomas had 7 tackles in that game.
Before the 2014 season started, Earl Thomas agreed to sign a 4-year/$40M extension ($27.7M guaranteed) making him the highest paid safety in the league behind All-Pro Eric Berry of the Kansas City Chiefs. He had another All-Pro/Pro Bowl season in 2014 recording 97 tackles, 3 forced fumbles, 1 INT & 6 passes broken up. In the NFC Divisional game vs. the Carolina Panthers he had 11 tackles, 2 passes broken up & a forced fumble. In the NFC Championship game vs. the Packers, he dislocated his left shoulder but played through it in the 2nd half recording 5 tackles. He also had 9 tackles in their 28-24 Super Bowl 49 loss vs. the Patriots
Earl Thomas' 2015 season didn't get started until the season opener because of the shoulder injury, he missed all of training camp & the whole preseason. He still finished with 64 tackles, 1 forced fumble & 5 INT's earning a spot on the Sporting News All-Pro 1st team. He was ranked 66th on the NFL Top 100 Players of 2016.
In 2016 he was limited to only playing 11 games recording 48 tackles, 1 fumble recovery, & 2 INT's because in week 12 he was out with a hamstring injury. That was the 1st time he missed a game due to injury in his career. The following week he broke his left tibia against the Carolina Panthers by colliding with teammate Kam Chancellor trying to break up a pass from Cam Newton. The injury abruptly ended his season making it the 1st time in his career that he didn't play all 16 games. Not long after...Earl tweeted that he thought about retiring but later on changed his mind by announcing that he was gonna continue playing.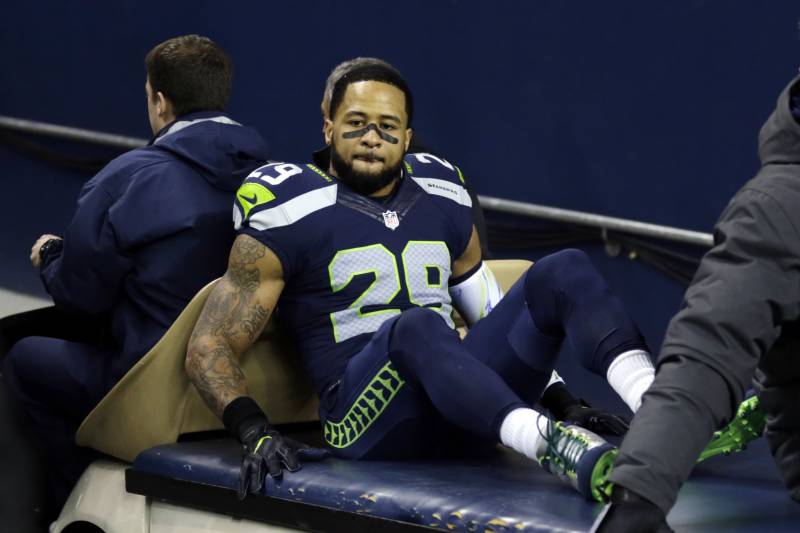 In a week 5 win over the Rams, Earl had 7 tackles, a INT & a forced fumble on Todd Gurley at the goal line which led to a game-changing touchback. The Seahawks ended up winning 16-10 over the #1 scoring offense in the league. In week 8, Earl Thomas had 5 tackles & a 78-yard pick 6 in a 41-38 win over the Texans. Unfortunately while trying to chase after DeAndre Hopkins in the 4th quarter, Earl pulled his hamstring & that caused him to miss a couple games. Thomas played through his hamstring injury on Monday vs. the Falcons but he clearly wasn't the same All-Pro player we're known to watching & he'll turn 29 on May 7th.
All 3 players will end up in the Hall-of-Fame one day....they're the reason why Seattle had the #1 defense 4 years in a row but right now, the injuries are piling up for each of them & they're only gonna get older moving forward. I'm not saying get rid of them but Seattle should start thinking about drafting guys in their positions (defensive back, strong safety & free safety) & develop them so that way the transition can be a bit smoother for the Seahawks. If Kam, Earl & Sherman can stay healthy...they can keep leading the defense while Russell Wilson leads the offense. But if either one of them gets another season-ending injury as soon as next year, that might be the end of the Legion of Boom.