Another classic National Championship game in the books & it was between 2 SEC schools but it didn't always look that way at first. The 1st big play of the game came when Georgia QB Jake Fromm got picked off after Alabama DB Tony Brown jumped & wrestled the ball away from Javon Wims on Georgia's opening drive of the game.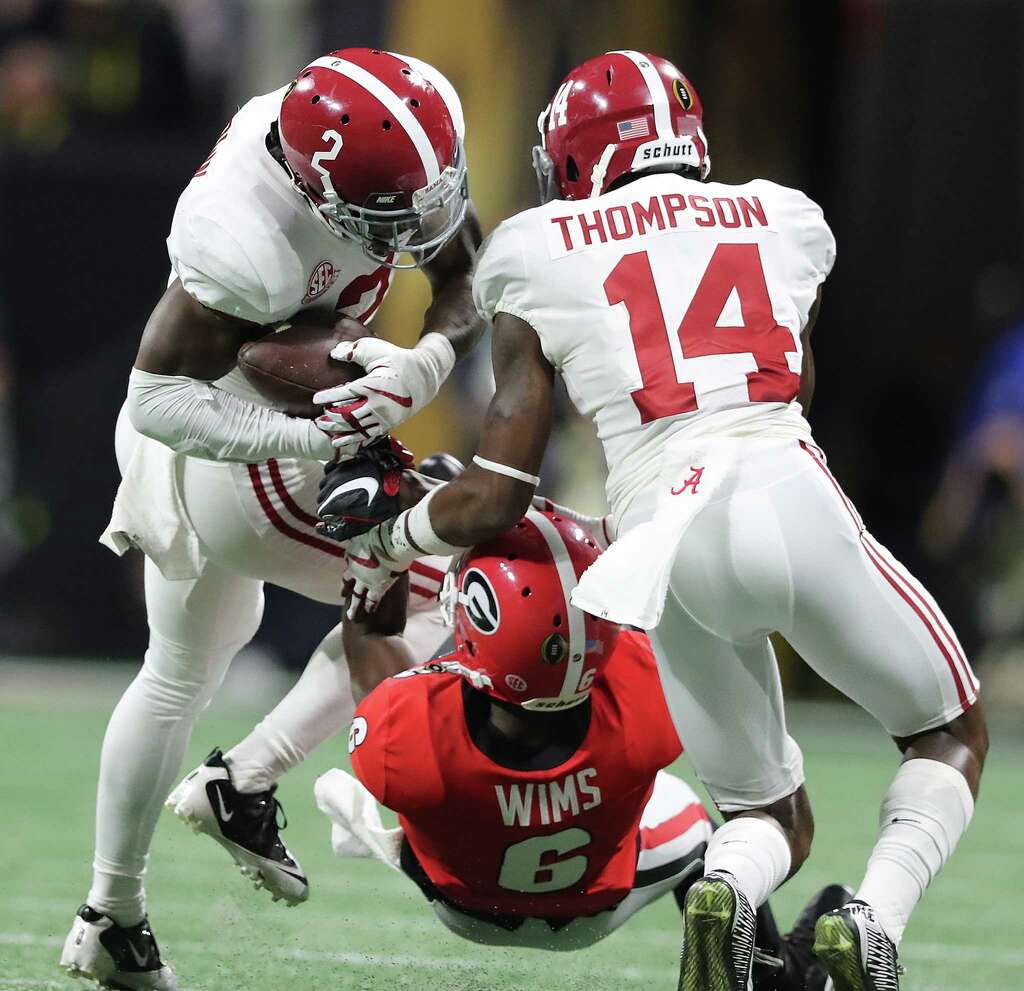 Alabama took over from there & during that drive Jalen Hurts missed a wide open Calvin Ridley right corner back of the endzone that could've put bama up 7-0 to start the game. Instead Andy Pappanastos missed a 40-yard FG wide left after a false start penalty. From then on, Jalen Hurts continued to struggle that whole 1st half completing 3 of 8 for 21 yards & carried the ball 6 times for 47 yards. It felt like I was watching last year all over again, Jalen kept going 3 & out, kept putting that defense back on the field. ESPN sideline reporter Tom Rinaldi talked about Minkah Fitzpatrick basically begging Jalen Hurts to sustain a drive so he & that Alabama defense can get some rest. That's why late in the 1st half you can see it, they were tired couldn't get Jake Fromm off the field on 3rd down & had a couple penalties which led to Mecole Hardman scoring from a yard out to give Georgia a 13-0 halftime lead.
Then Nick Saban made a QB change benching Jalen Hurts for the true Freshman Tua Tagovailoa. Tua has promise but to put him in the National Championship game down 13-0 basically telling Tua "win the game" is a lot to ask of an 18 19-year old kid. Tua went 3 & out on his 1st drive & that was expected. Tua's 2nd drive got interesting on 3rd & 7, he got the snap out of the shotgun, rolled right, bounced off of 3 different Georgia defenders & got the 1st down. Tua then marched Alabama down the field, throwing dime after dime including a 6-yard TD pass to Henry Ruggs III giving the Crimson Tide the jolt that they needed still down 13-7.
Then Jake Fromm was faced with a 3rd & 11 knowing that if he don't make a play here, Alabama is getting the ball back with momentum. Instead Jake out of the shotgun threw a perfect pass to Mecole Hardman in stride for an 80-yard TD to increase Georgia's lead 20-7 with 6:52 left in the 3rd quarter (Longest pass play of the season) https://twitter.com/MusikFan4Life/status/950618425361092608. They reviewed the play to see if Mecole stepped out of bounds & the play stands as called....Touchdown. Georgia regains momentum. Did he step out? You decide.
Tua Tagovailoa on the ensuing drive rolled to his left & threw an INT to Deandre Baker giving Georgia even more momentum but then on the next play for Georgia, Jake Fromm escaping pressure threw it off Da'Shawn Hand's helmet & fell into the hands of Raekwon Davis for another INT. A game-changing turnover when Georgia was in prime position to do even more damage. Andy Pappanastos made a 43-yard FG to make it a 20-10 game with 5:15 left in the 3rd quarter.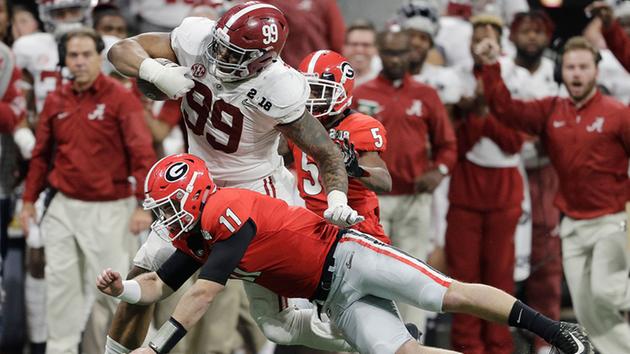 After the kickoff, Alabama LB Mehki Brown was called for a 15-yard penalty for throwing a punch (Unsportsmanlike Conduct) & then got into it with a coach on the bench letting his emotions get the better of him https://twitter.com/MusikFan4Life/status/950617713692545024. Luckily for him, Georgia didn't score on that possession & was forced to punt.
With 8 seconds left in the 3rd quarter, Tom Rinaldi reported that Freshman DB Kyriq McDonald collasped on the Alabama sideline & left the game on a stretcher. Despite the health scare, Kyriq looked to be okay but in the last 5 minutes of the 3rd quarter, a couple of things happened on Alabama's bench that you don't usually see in big games like this.
On 3rd & 8 with 9:34 left in the 4th quarter, Tua in the pocket threw one to the endzone for Jerry Jeudy off his hands & into the hands of Dominick Sanders but they called it incomplete cause he didn't have full control even tho he had a foot down. They reviewed it & the play stands....imagine if Sanders had full control, that would've been a crushing red zone turnover. But instead Pappanastos made a 30-yard FG to make it a 20-13 game with 9:24 left.
Tua Tagovailoa drove down the field & then threw a 7-yard strike to Calvin Ridley for the game-tying touchdown on 4th & 4 to make it 20-20 ballgame with under 4 minutes to play.
Jake Fromm on the next drive had D'Andre Swift wide open in the flat on 3rd & 3 but he overthrew Swift forcing Georgia to punt it back to Alabama with 3:06 left & 2 timeouts. Tagovailoa drove his team down the field to help setup Pappanastos for a potential 36-yard National Championship-winning FG with 3 seconds left. Snap was good, hold was good...but he hooked it wide left NO GOOD!!! OVERTIME!!! https://twitter.com/MusikFan4Life/status/950662178507575297.
Alabama won the coin toss but chose to be on defense 1st. The 1st 2 plays for Georgia were runs to Nick Chubb that went for 3 yards & no gain. Then Terrell Lewis sacked Jake Fromm for a 10-yard loss when most people said before the play that you can't take a sack. It didn't matter for Rodrigo Blankenship as he calmly makes the 51-yard FG to give Georgia a 23-20 lead in OT https://twitter.com/MusikFan4Life/status/950662519521185793.
Alabama now has the ball. Georgia is 1 stop away from winning a National Championship in their home city of Atlanta & they were off to a good start when Davin Bellamy sacks Tua Tagovailoa for a 16-yard loss. Nick Saban lost it on the sidelines & now it's a 2nd & 26. How can you get out of a hole like that? Tua out of the shotgun, in the pocket, looked off senior safety Dominick Sanders who was making his 53rd start & threw a rocket to Devonta Smith for the 41-yard touchdown and that is how Alabama coming back from 13 down in the 3rd quarter with a true Freshman QB win their 5th National Championship in 9 years. https://twitter.com/MusikFan4Life/status/950602702278545410
That's how you end the 2017-18 college football season. Congratulations to Nick Saban on winning his 6th National Championship (Ties Bear Bryant for the most in the poll era). Thank you Alabama & Georgia for an incredible football game.