And then there were two. Super Bowl 52 in Minnesota. Out of the AFC we have the New England Patriots who're going to their 3rd straight Super Bowl led by the ageless wonder 40-year old Tom Brady. He's looking to win his 6th Super Bowl which would be the most all-time by a player in NFL history. Tom's playing better now than he did when he was in his late 20's & early 30's, this man continues to win despite working with a below average running game, Julian Edelman out for the season with a torn ACL and Rob Gronkowski in & out of the lineup including last week's AFC Championship. When Gronk got knocked out of the game with a concussion late in the 1st half, Tom threw 2 4th quarter TD's to Danny Amendola to help win the AFC.
New England's defense was on a historically bad pace to start the season which was why they started the year 2-2 but they turned it around despite missing a key part in Dont'a Hightower with a season-ending pectoral injury. Make no mistake they still struggle at times during games but like in the AFC Championship, Defensive Coordinator Matt Patricia & Bill Belichick make them 2nd half adjustments and turn games around in their favor.
Out of the NFC we have the Philadelphia Eagles who're going to their 3rd Super Bowl in franchise history (1st since 2004 vs. you guessed it the Patriots). Before this season started most people didn't have any expectations for them especially me, I listened to folks saying left & right that the NFC East was gonna come down to 2 teams. Dallas Cowboys & NY Giants. Neither of them made the playoffs. But when the games were played, no one in the NFC was more impressive than Philly.
Carson Wentz as a rookie started 3-0 but then hit a wall finishing the season at 7-9 & missing the playoffs. In his 2nd season he progressed faster than any of us expected. It showed when he threw for 4 TD's in a 51-23 rout vs. the Denver Broncos. After that game he became an MVP candidate not only because not too many QB's can do that against Denver's defense, but you can see 2 years in that Carson Wentz is what the Eagles drafted him to be.....a franchise QB.
Unfortunately Carson's MVP season ended in LA against the Rams in week 14 when he tore his left ACL & LCL trying to dive in the endzone for a touchdown. He finished his 2nd season completing 60.2% of his passes, 3,296 yards, 33 TD's, 7 INT's & a 101.9 QB Rating (Finished 2nd in TD passes & 4th in QB Rating). Most people had the Eagles making a deep run in the playoffs but with Carson Wentz out, many wondered if they were gonna be a 1 & done playoff team.
Now Nick Foles steps in on short notice to try to lead the Eagles. He was off to a good start throwing for 237 yards & 4 TD's in a 34-29 win vs. the Giants. Nick struggled in his 2nd start vs. the Raiders on Christmas Day but the Eagles still won 19-10, clinched the #1 seed & homefield advantage throughout the playoffs. Foles also struggled in the season finale vs. the Cowboys getting benched in the 2nd half for Nate Sudfield. Those last 2 games led people to question whether Nick Foles has what it takes to win in the playoffs.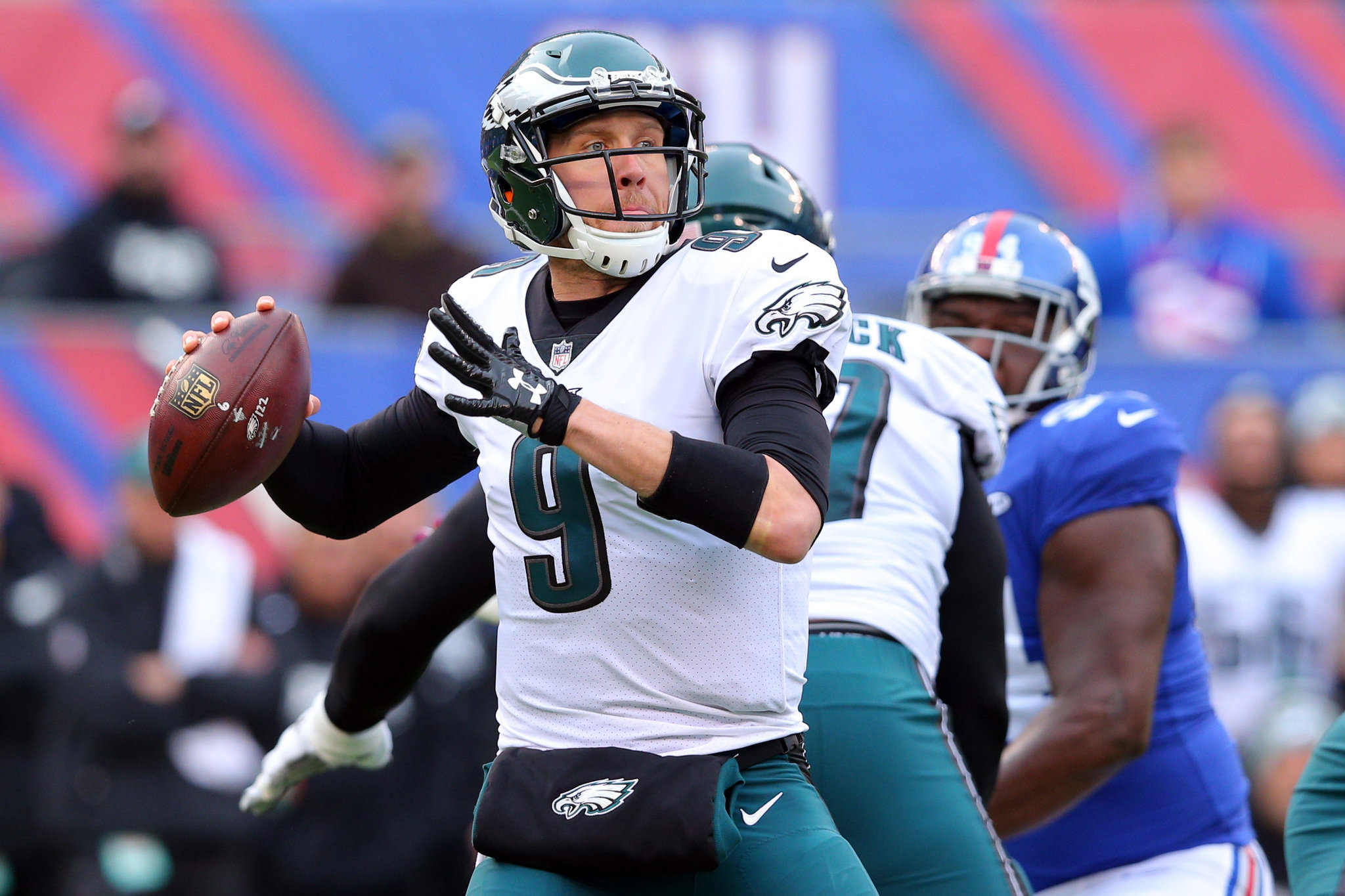 The Eagles 1st playoff test came against the Falcons in the Divisional round. Atlanta just came off a 26-14 Wild Card road win vs. the LA Rams impressing Vegas enough to make them a road favorite, that was the 1st time in NFL history that a #1 seed was an underdog in a playoff game. The Eagles used that as motivation, ended up beating the Super Bowl runner-up from last year 15-10 & advance to the NFC Championship Game. Nick Foles didn't throw any touchdowns but he was efficent going 23 of 30 for 246 yards. After the game, All-Pro Right Tackle Lane Johnson embraced the underdog role by wearing a German Shepherd dog mask knowing full well the odds are against him & the team but is having fun with it.
The Eagles once again were 3-point home underdogs against the Minnesota Vikings in the NFC Championship Game. Case Keenum led Minnesota down the field & threw a 25-yard TD pass to Kyle Rudolph on their opening drive. It was all Eagles after that as the momentum turned when Case threw an INT to Patrick Robinson & Robinson ran it back 50 yards for Philly's 1st touchdown of the game https://twitter.com/MusikFan4Life/status/955329343089192961. That pick 6 started a 38-0 run as the Eagles beat the Vikings 38-7 & advance to the Super Bowl for the 1st time in 14 years. Nick Foles was amazing from start to finish going 26 of 33 for 352 yards, 3 TD's & a 141.4 QB Rating https://twitter.com/MusikFan4Life/status/955324935160856577. Probably his best game of his career & I'm talking about a guy who threw 7 TD's in a game during the 2013 season, now he's preparing for the biggest game of his football life against living legend Tom Brady.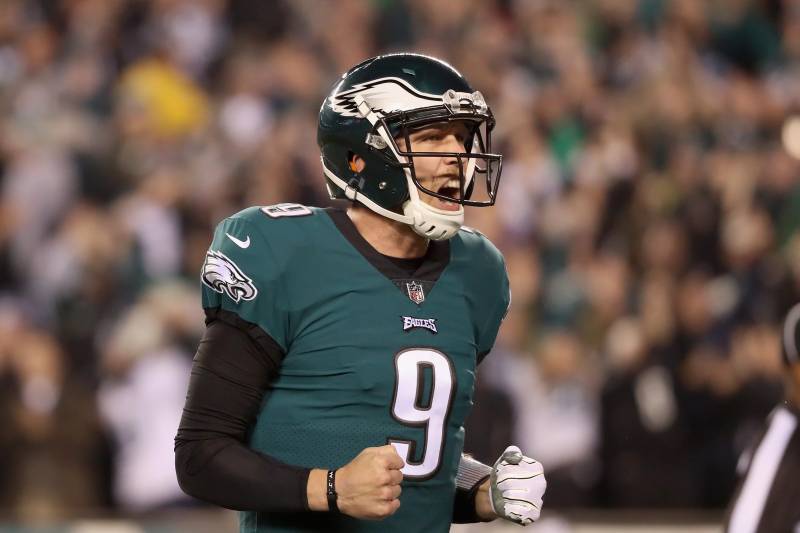 The key for the Patriots to win next Sunday....the New England defense has to be on their A game. This is why guys like Stephon Gilmore came to the Patriots, to play & perform in games like this. Nick Foles' confidence is sky high right now & it's up to those 11 guys to bring that down and bring another Lombardi trophy to Foxboro.
The key for the Eagles to win next Sunday.....I feel like they have to establish a running game. LeGarrette Blount & Jay Ajayi must have an impact in order to help setup Foles go downfield and make big plays. I love what Foles is doing but it would surprise me if he beats the Patriots the way he beat Minnesota in the NFC Title Game without any run support.
My Super Bowl 52 Prediction : Eagles win 30-24