1) Johnny Manziel, QB, Texas A&M, Sophomore (RS)
2012 Heisman finish: Winner (1st)
In 2012, Johnny Football became the first freshman to ever win the Heisman Trophy, and as a sophomore is the front runner to repeat. Let me start off by saying, Manziel is far from the lock to win the Heisman even after his historic freshman season. Johnny Football finished his first year as starter with gaudy numbers across the board.
Manziel accumulated 3,706 yards through the air with 26 touchdowns and 9 interceptions, while completing 68.0 percent of his passes. Those are some pretty solid numbers, but it was Manziel's rushing yards that really set his Heisman campaign over the top.
Manziel ran for 1,409 yards on 7.0 yards a carry and a whopping 21 rushing touchdowns. As incredible as his freshman year was, Manziel's quest to repeat as Heisman will be a challenge that will require several players to step up to fill some big shoes.
Manziel will be looking to repeat as Heisman without the help of two of his top three most productive receivers from last season, Ryan Swope and Uzoma Nwachukwu. Texas A&M will also be without their most athletically gifted running back, Christine Michael, and one of the best left tackles in the country and, eventual NFL #2 pick, Luke Joeckel. That's a lot of talent and production to replace.
Luckily, Manziel and the Aggies appear to have found answers for all of these voids. Texas A&M was able to land two of the nation's top 10 wide receiver prospects from the class of 2013. Manziel will have a large new target in Ricky Seals-Jones, the #8 receiver in the country who is a physically imposing prospect at 6'5" and 230 pounds. The Aggies also brought on Sebastian LaRue, the #9 receiver in the class who is a real explosive athlete and a perfect replacement to Swope.
The loss of Michael though significant will not be a major impediment to Manziel's chase. Michael was an elite athlete, but found himself in the coach's doghouse too many times while at A&M and, thus, never produced on the field at the level his talent would suggest he should have.
Lastly, and probably most importantly for Manziel's quest for back-to-back Heisman's is who will take over for Luke Joeckel and protect Manziel's blindside? No worries. Last season's right tackle, Jake Matthews, will slide over to the left side and take over the duties of protecting Johnny Football's blindside.
For those unfamiliar with Matthews, he is projected to be a top 10 pick in next year's NFL Draft and he comes from a long line of talented football players. Matthews is the son of NFL Hall of Fame offensive linemen Bruce Matthews, and cousin of current NFL linebackers Clay and Casey Matthews of the Green Bay Packers and Houston Texans, respectively. Matthews talent and pedigree speaks for itself, and he should have no problem transitioning to the left side of the line.
Texas A&M's schedule is also very favorable considering they are only facing two defenses that I project as being elite in 2013 (Alabama and LSU). As difficult as it is to win back to back Heisman's, it is difficult to bet against a kid who dominated the SEC as a freshman, and has not looked like he was slowing down in a way during the Aggies spring game in April. Combine that with a (relatively) soft schedule, a solid collection of young weapons, a full season of experience as a starter and another offseason to improve and refine his abilities make the 2013 Heisman Trophy Johnny Football's award to lose.
2) Braxton Miller, QB, Ohio State, Junior
2012 Heisman finish: 5th
Braxton Miller was instrumental in Ohio State's perfect season in 2012. Miller is the engine that makes the Ohio State offense go and Urban Meyer makes sure to put his superstar quarterback in the best position possible for him to succeed.
Miller will look to improve on a 2012 campaign, which saw him throw for 2,039 passing yards, 15 touchdowns and 6 picks. Miller rushed for 1,271 yards and 13 touchdowns on 5.6 yards per carry.
I cannot envision a scenario where Ohio State does not finish the season undefeated in 2013, unless something happens to #5, but if OSU finishes the year unbeaten it will be because of Braxton Miller's play.
The Buckeyes have a very favorable schedule in 2013. Their out of conference schedule should be a cake walk, and the Big 10 is not a very tough conference this season. Michigan and Nebraska are the only teams in the Big 10 that I think can be even considered decent, and OSU only plays one of them, so it's no wonder why so many pundits have the Buckeyes pegged as a favorite to make it to the National Championships.
Now, If Miller can improve his throwing accuracy he is my pick to win the Heisman. Miller finished his sophomore season completing a paltry 58.3 percent of his throws. That number MUST improve, significantly, if Miller wants to be considered a legitimate Heisman winner. Miller's completion percentage needs to be closer to the mid 60's if he wants to have a real shot at taking the hardware in 2013, because his exploits on the ground are far from the problem.
As a quarterback, Miller is one of the most naturally gifted ball carriers to ever come out of the Big 10. Miller doesn't have the breakaway speed like several of the prominent Big 10 rushing quarterbacks of the past few seasons (Michigan's Denard Robinson and Nebraska's Taylor Martinez), but he is a more talented ball carrier.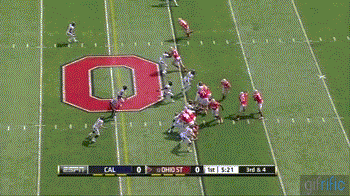 Miller is very elusive and shifty, has great moves and looks very natural running the ball but his passing is still very inconsistent. If Miller makes the type of strides throwing the ball that many believe he can make than the 2013 campaign will be a memorable one for Miller and the Buckeyes. The Buckeyes added the #5 receiver of the 2013 class, Jalin Marshall, to help Miller's development in the passing game.
If Miller improves on his impressive numbers he posted as a sophomore and leads a Big 10 team to an undefeated record than he will certainly be a frontrunner to win the 2013 Heisman.
3) Teddy Bridgewater, QB, Louisville, Junior
2012 Heisman finish: Outside of top 10
Teddy Bridgewater is a name some may not be as familiar with, but that will change in the upcoming months. Bridgewater led the Cardinals to an 11-2 mark in 2012 including an astonishing win over the #3 Florida Gators in the All State Sugar Bowl.
Bridgewater will look to build upon on a solid sophomore season, which saw him finish with 3,718 yards, 27 touchdowns and 8 interceptions. As impressive as Bridgewater's stats were last season, I see no reason as to why the promising prospect will not improve on those numbers.
Louisville's schedule is not what I would classify as challenging, which shouldn't be a surprise to anyone considering they play in the Big East. The Cardinals, on paper, appear as locks to run away with the Big East crown in 2013; however, that likely will not be enough for Bridgewater to win the Heisman. Bridgewater's Heisman hopes will be contingent on the Cardinals running the table, and fighting for a berth in the BCS National Championship.
Bridgewater has a play action fake that is unparalleled in college football and will likely be the top quarterback selected in next year's NFL Draft, but his Heisman chances leave little room for error. If the Cardinals do not go undefeated I think it will be difficult for the Bridgewater to win the Heisman. The talented junior would have to post extraordinary numbers because most Heisman voters would be hard pressed to vote for a quarterback out of the mediocre Big East over power conferences such as the SEC and Big 10.
4) Jadeveon Clowney, DE, South Carolina, Junior
2012 Heisman finish: 6th
Jadeveon Clowney was one of the most prized recruits to ever commit to South Carolina, and a prospect that has been on NFL scouts radars since high school. Why would a high school player be on NFL radars you ask? Well, because in high school Clowney was about 6'6" 250 pounds and competed in the South Carolina state championship track meet. Yes, you read that right. The South Carolina state championship track meet, at 250 pounds!
Nowadays, Clowney is reportedly up to 270 pounds and recently ran a 4.5 40 yard dash! In saying all of this it is clear, Clowney is a freak of nature, and I mean that in the best way possible.
Clowney had a marvelous sophomore season finishing the year with 13 sacks, which was third most in the country, but Clowney's "coming up party" came during the Gamecock's Outback Bowl victory over Michigan in what I like to call "the hit heard around the world."
As a junior, the sky is the limit for Clowney and his Gamecocks. South Carolina's schedule is not easy, but is it ever in the SEC? The Gamecocks luckily will be playing Georgia early in the season, a Bulldog team that will be fielding nearly a completely new defense. Georgia had a whopping seven starters from their defense get selected in this past NFL Draft, so that bodes well for South Carolina's bid to win their week 2 match up with the Dawgs, and puts them one huge step closer to a flawless season.
If the Gamecocks can pull off an undefeated 2013 campaign and Clowney posts stellar numbers (18+ sacks, 30+ tackles for loss and 5+ forced fumbles) like I expect him to, look for Clowney to get serious consideration for the Heisman, especially if he keeps making plays like this:
Leaves me speechless every time.
5) A.J. McCarron, QB, Alabama, Senior (RS)
2012 Heisman finish: Outside of top 10
Is it just me or does it feel like A.J. McCarron has been the starting quarterback at Alabama for years now? If you feel the same it's probably because McCarron has seen the field for three years entering this season. 2013 will be McCarron's third and final season as the Crimson Tide full time starter. McCarron is already a three time National Champion, and with the weapons around him in Tuscaloosa don't be surprised if he becomes a four time National Champ.
McCarron had an epic 2012 season finishing the year with 2,933 yards after completing 67.2 percent of his passes and recording 30 touchdowns to only 3 interceptions. McCarron averaged one interception for every 104 pass attempts in 2013! For his career, McCarron has averaged 86 passing attempts to every interception, which is incredible and a testament to McCarron's decision making under the gun.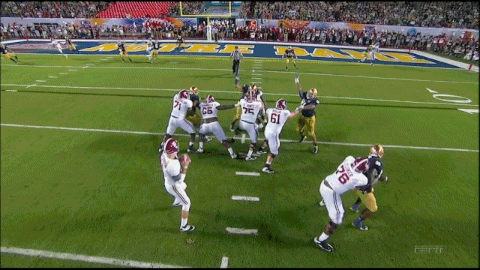 McCarron was fortunate enough to play behind the best offensive line in the country last season, but after the departure of three NFL caliber offensive linemen (Chance Warmack, D.J. Fluker and Barrett Jones) Alabama's line is bound to take a step back. McCarron will face more pressure from opposing defenses next year, but he also will have more seasoned weapons to utilize.
All of McCarron's top receiving threats return in 2013 including sophomore Armani Cooper and senior Kevin Norwood. The Crimson Tide also are adding the nation's #2 wide receiver in the class of 2013 Robert Foster. The Crimson Tide also lost running back Eddie Lacy and tight end Michael Williams, but should have no problem replacing either starter.
Lacy's replacement, T.J. Yeldon, made a mark with limited opportunities as a freshman, but I expect him to breakout in 2013. The Crimson Tide also brought in three top 10 running backs on the recruiting trail, as well as, the nation's #2 tight end, O.J. Howard.
When it is all said and done, the Tide will be in championship contention. I expect McCarron's weapons to be better than they were last year, but the offensive line will to take a step back. So, it is up to the redshirt senior to display poise, leadership and the resiliency necessary to lead the Tide to their fourth BCS National Championship in five years, and maybe a Heisman Trophy will follow. That's only if his young running mate doesn't stiff arm his way to the top.
6) T.J. Yeldon, RB, Alabama, Sophomore
2012 Heisman finish: Outside of top 10
I thought T.J. Yeldon was one of the most talented running back last season, and he was only an 19-year-old freshman. Now, with the departure of Eddie Lacy to the NFL, Yeldon is poised to carry the load in the Alabama backfield.
Fellow sophomore running back Kenyan Drake will also see his share of touches. I would also expect at least one of the incoming freshman (#4 RB Alvin Kamara, #8 RB Tyren Jones or #10 RB Altee Tenpenny) to also get some looks, but make no question about, the Crimson Tide backfield is T.J. Yeldon's.
The 6'2" Yeldon posted solid numbers as a true freshman racking up 1,108 yards and 12 touchdowns, but never was able to take over games since he was splitting carries with junior running back Eddie Lacy. Even with Lacy getting the majority of the carries Yeldon was still able to set SEC freshman records for rushing yards and tying the record for rushing touchdowns (with fellow Tide alum and Heisman Trophy winner Mark Ingram).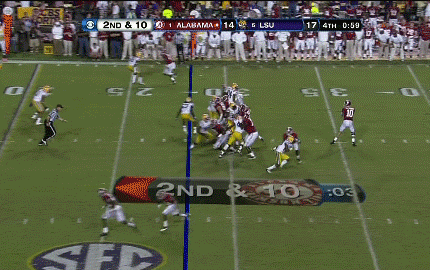 Yeldon will have to run behind an inferior line compared to last year's impenetrable front five, but that shouldn't be too big of an impediment for the talented Alabama native. Because one thing I am certain about is that Yeldon will get his.
7) Aaron Murray, QB, Georgia, Senior (RS)
2012 Heisman finish: Outside of top 10
Aaron Murray has one of the best arms in college football. He's a gunslinger who has a cannon for an arm. Murray finished the season with 3,839 yards, 36 touchdowns and 10 interceptions. Murray completed a career best 64.5 percent of his passes in 2012, but will be expected to produce even better numbers if the Bulldogs want to compete for a national championship in 2013.
Georgia's vaunted defense was decimated by detractions to the NFL (as noted above), so if the Bulldogs hope to replicate the success they achieved last year the offense needs to be hitting on all cylinders. The Bulldogs can expect to be in a lot more shootouts in 2013 than they were last season, and it will be on Murray's arm to lead his team to victories.
The Bulldogs have a great running game in place led by sophomore running backs Todd Gurly and Keith Marshall, but the passing attack will have to find a replacement for leading receiver Tavarres King. If last year was any indication, that shouldn't be a problem for Murray who had no problem distributing the ball to the open man. Last season, Murray completed at least 10+ passes to eleven different targets, and no one had more than 45 receptions (King led the team with 42).
The Bulldogs schedule will not make Murray's quest for the Heisman any easier. South Carolina, LSU, Vanderbilt, Missouri and Florida all have solid defenses and/or secondaries, and will make Murray's Heisman chances all the more difficult.
Luckily, for Murray he won't face the Crimson Tide again next year, unless they meet in the SEC Championship like last season, which didn't end very well in 2012 for the Bulldog quarterback.
8) De'Anthony Thomas, RB, Oregon , Junior
2012 Heisman finish: Outside of top 10
De'Anthony Thomas is one of the fastest players in the country and his speed will be on full display every Saturday when the Ducks take the field. Thomas will likely be called upon to do everything for the Ducks in 2013.
Thomas is the Ducks most explosive and dynamic weapon and the team's best running back, wide receiver and return man. So he is going to be called upon heavily in 2013, which is a slight change from Thomas' previous couple years at Oregon.
Since arriving at Oregon in 2011, Thomas has been stuck behind two Heisman candidates in the Duck backfield. As a freshman, he was behind LaMichael James who finished in the top 10 of the 2011 Heisman voting and as a sophomore he was behind Kenjon Barner who finished in the top 10 of the 2012 Heisman voting, so touches have been limited in the Duck backfield.
Thomas posted solid numbers in his sophomore campaign in Eugene, racking up 701 yards and 11 touchdowns on the ground and 445 yards and 5 touchdowns through the air. Now, I will be the first to say that these numbers are far from Heismanesque, but Thomas made the most of his limited opportunities in 2013.
Thomas averaged 7.6 yards per carry, which was best in the Pac 12, but he only ran the ball 92 times. Ducks quarterback and fellow 2013 Heisman hopeful Marcus Mariota carried the ball more than the explosive and dynamic Thomas, but that will all change in 2013.
Thomas will become a focal point of the Duck offense along with Mariota and the two will be doing most of the heavy lifting for Oregon next season, so you can expect to hear a lot about football's "black mamba" this upcoming season.
9) Marqise Lee, WR, Southern California, Junior
2012 Heisman finish: 4th
Marqise Lee is an absolute beast and a future NFL superstar. Lee was the best receiver in the country last season, and he was only a sophomore. Lee had an incredible season in 2012, which is why he finished fourth in the Heisman voting.
Lee led the country with 118 receptions was second in yards with 1,721 yards and was tied for third with 14 touchdowns. Lee is a dynamic weapon and will be called upon as receiver, returner and will likely see a few touches out of the backfield in 2013.
Unfortunately for Lee, he may find life a little more difficult after the departure of four year starting quarterback Matt Barkley and fellow star wide receiver Robert Woods who both were drafted in April's NFL Draft. The Trojans will look to replace Woods' production with sophomore receiver Nelson Agholor who showed flashes as a freshman last season, but the quarterback position will be a much more difficult void to fill.
The battle for starter is currently a three man race between sophomore's Cody Kessler and Max Wittek or freshman standout Max Browne. Lee's chemistry with the Trojans signal caller will be crucial in determining how much success the star receiver will achieve in 2013.
Regardless, of who ends up winning the job Lee will be a major factor in the Trojan offense and can expect to be drafted in the first round of next year's NFL Draft, but winning the Heisman will be a tough task with the uncertainty at quarterback for the Trojans going into 2013.
10) Taylor Martinez, QB, Nebraska, Senior (RS)
2012 Heisman finish: Outside of top 10
Taylor Martinez is one of the fastest quarterbacks currently in the collegiate ranks. His numbers as a junior compare favorably to another Big 10 dual-threat quarterback with Heisman aspirations.
In 2012, Martinez compiled 2,871 yards through the air, 23 passing touchdowns and 12 interceptions, while running for 1,019 yards and 10 touchdowns.
The California native will spearhead the Cornhusker attack in 2013, and I fully expect him to run wild in the Big 10. I think 2013 will be a down year for the Big 10, and a player of Martinez's caliber will be able to accumulate some gaudy stats.
There aren't a whole of defensive players who can keep up with someone with Martinez's speed in the Big 10, and the Cornhuskers won't even be facing many tough defenses against the run in 2013. Michigan State, Penn State and Northwestern were all stout against the run in 2012, but if those are the toughest defenses a team will encounter than they should feel very fortunate.
Martinez, similiar to his Big 10 counter part Braxton Miller must improve his throwing accuracy. Martinez completed a career-high 62 percent of his passes in 2012, but will need to improve on that mark even more in 2013, if he hopes to win a Heisman.
One thing, Martinez will not have to worry about next year is weapons. The Cornhuskers return their top three receivers (Kenny Bell, Quincy Enunwa and Jamal Turner), and their leading rusher from 2012 (Ameer Abdullah), which should be enough to create a high octane offense, in a league that will not feature much scoring in 2013.
If Martinez can lead his team to a 2013 BCS bowl game, and continue putting up the type of numbers through the ground and air that he is capable of than a Heisman Trophy may not be far behind. And more runs like this won't hurt his cause either.
Dark Horse(s):
Lache Seastrunk, RB, Baylor, Sophomore (RS)
Tajh Boyd, QB, Clemson, Senior (RS)
Duke Johnson, RB, Miami (FL), Sophomore
Jordan Lynch, QB, Northern Illinois, Senior (RS)
Marcus Mariota, QB, Oregon, Sophomore